Our relationship with our drivers is built on mutual trust and respect. While on the road, our drivers are the constant public face of our company.
By hiring drivers who take great pride in providing exceptional service and timely delivery performance, we maintain strong relationships with our customers. Several Fortune 500 companies are among our customers, and many have been with us since we started in 1989.
We attract and retain top talent by keeping our word. Hear from the professionals who know our company best—our drivers.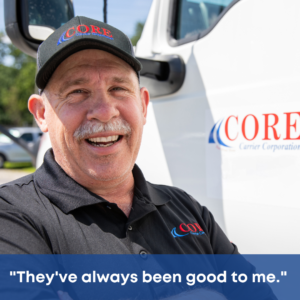 My favorite part for driving Core is they've always been good to me. I mean they keep me up and keep me going when I want to. If I need to be home, they get me home—there's no ifs, ands, or buts about it. It's a pretty good company and they care for their drivers. – Mark, OTR Driver since 2003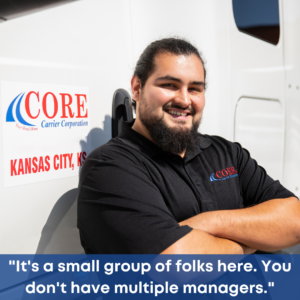 I think that comes from being such as small group of folks here. You don't have multiple managers and people stacked on top of other people. It's just a few people you have to deal with. It's always important to have that.- Pedro, OTR Driver since 2016
---
---